Thank you for joining me again on my imaginary literary tour of Europe...
I had a wonderful time on my visit to England, for which the theme turned out to be afternoon tea! I took part in that delightful British meal many times, both in London and in the country.
My first tea was rich in traditional, old world splendor At Bertram's Hotel, with Jane Marple. Some may regard Miss Marple as just another elderly spinster, but we know her as an amateur detective with a razor-sharp insight into human nature. Jane, as she said I may call her, was taking a recuperative respite at Bertram's, courtesy of her nephew, Raymond. The elegant, yet comfortably-familiar surroundings would do more for her well-being than the seaside she said. The afternoon I arrived, I found her with Lady Selina Hazy, taking tea in the opulent Entrance Lounge.
As everyone agreed, the muffins at Bertram's were something to remember. I certainly will! Warm and well-buttered, they are unlike the packaged "English" muffins found in grocery stores. As I am given to understand, they are also very easy to make at home. The only special equipment needed is a set of muffin rings, which may be substituted with tuna cans - top and bottom removed. Give them a try with breakfast or tea! The BBC has an easy-to-follow recipe. Note, castor sugar may be replicated by grinding the sugar in a mortar & pestle or in a blender. (I found the BBC recipe was not as easy or foolproof as the second recipe I tried, see the end of the post for the details on that. Excuse the interruption, now back to Bertram's ... )
After a pleasant time catching up - a bit of gossip, or rather "sharing of information" about mutual friends - I took my leave the following morning and headed across town to the stylish flat of man-about-town bachelor, Algernon Moncrief, Algy to his friends (and Ernest to Cecily, but we won't go into that now.)
I happened to be visit on the day that Algy was hosting his Aunt Augusta, Cousin Gwendolen, and friend, Ernest Worthing (Jack to everyone else, but we won't go into that either) to tea. I was quite looking forward to it, as Algy had promised Aunt Augusta cucumber sandwiches. They sounded a treat! Unfortunately, we were not to partake. As you weren't there, I will repeat the exchange:
It is just like Algy to invite guests, promising cucumber sandwiches, and then not serve them after all. I don't think "ready money" had anything to do with the lack of cucumbers, and hence the absence of the sandwiches. In fact, I would be willing to bet that Algy ate them himself! In any case, after that disappointing repast, rendered more disagreeable by my feeling entirely out of place with Ernest né Jack proposing to Gwendolen, and Algy entertaining/distracting Aunt Augusta. Before Algy and Jack discovered the Importance of Being Earnest, I decided it was time to head to the country!
My final stop in England was in Worsted, near Winter Underclose, with the Tebbens, Palmers, and Deans. There was quite a bit of activity in Worsted in this August Folly. Mrs. Palmer was putting on a Greek play, Hippolytus. Richard and Margaret Tebbens had just returned home; Richard after university and Margaret after serving as an au pair in Grenoble. The extensive Dean family, close relatives of the Palmers, was staying for some time in the Dower House. The small village came to life, and I had a wonderful time!
Daily life was filled with meetings between the Dean brood and the Tebbenses. Richard Tebbens formed an unfortunate ardent attachment to Mrs. Dean (also known as "calf love".) Laurence Dean and Margaret seemed to get on very well (I won't say the outcome of that.) Poor Helen Dean, the eldest girl and a racecar driver, felt rather left out of things. Betty Dean on the eve of going to university on scholarship, idolized Mrs. Tebbens who received a first in Economics. Susan and Robin Dean never ceased capering about in daredevil escapades. The youngest child, Jessica, was generally cosseted by Nanny. Between tennis, cricket, the play, and Modestine the donkey, and his cart, there was never a dull moment!
For that reason, I looked forward to the relative relaxation of afternoon tea. Due to straitened circumstances, and slight failings as a housekeeper, tea at Mrs. Tebbens' was more about the fellowship (to use the curate's favorite word) than the refreshments. However, the tea at the Manor House was all one could wish - with hot tea, sandwiches, muffins, scones, and dessert, and even quiet tranquility if the Dean children were not present!
One afternoon, tea was served to me alfresco, in the garden. With the sun dappling the table, the birds soothingly singing in trees, it was lovely.
Of all the choices on the tiered tray, my favorite is always the sandwiches. Scones, muffins, and cakes are good, even delicious, but it is the little savory treats that are truly satisfying. I love the cool cucumber sandwiches with fresh dill and a creamy spread, the curried chicken salad with raisins and toasted pecans, and most of all, I love the buttery egg salad on soft sweet bread. I've found the best egg salad (as made by Mrs. Palmer's cook) is the simplest.
After all of our fun together, it saddens me a bit to leave the Worsted families behind, but I am content, as I know they are well and happy. I look forward to getting their letters with updates on the Deans and Tebbens. As I leave them in England ...
I head on to Wales! More updates coming soon!
Additional Notes on English Muffins:
I found the second recipe I tried, Marion Cunningham's, to be easier and fluffier than the previous recipe I mentioned. I highly recommend her cookbook, The Breakfast Book, for many terrific sounding recipes for a variety of traditional, and creative, dishes.
The nice thing about the Marion Cunningham recipe is that you stir all the ingredients together in a bowl and let rise. There is little-to-no kneading required. She specifies 3 inch muffin rings (or tuna cans), but the two sets that I own are 3.75 and 4 inches. They turned out fine in the larger size, but I would like to try to find the smaller size ring to see if that makes a difference.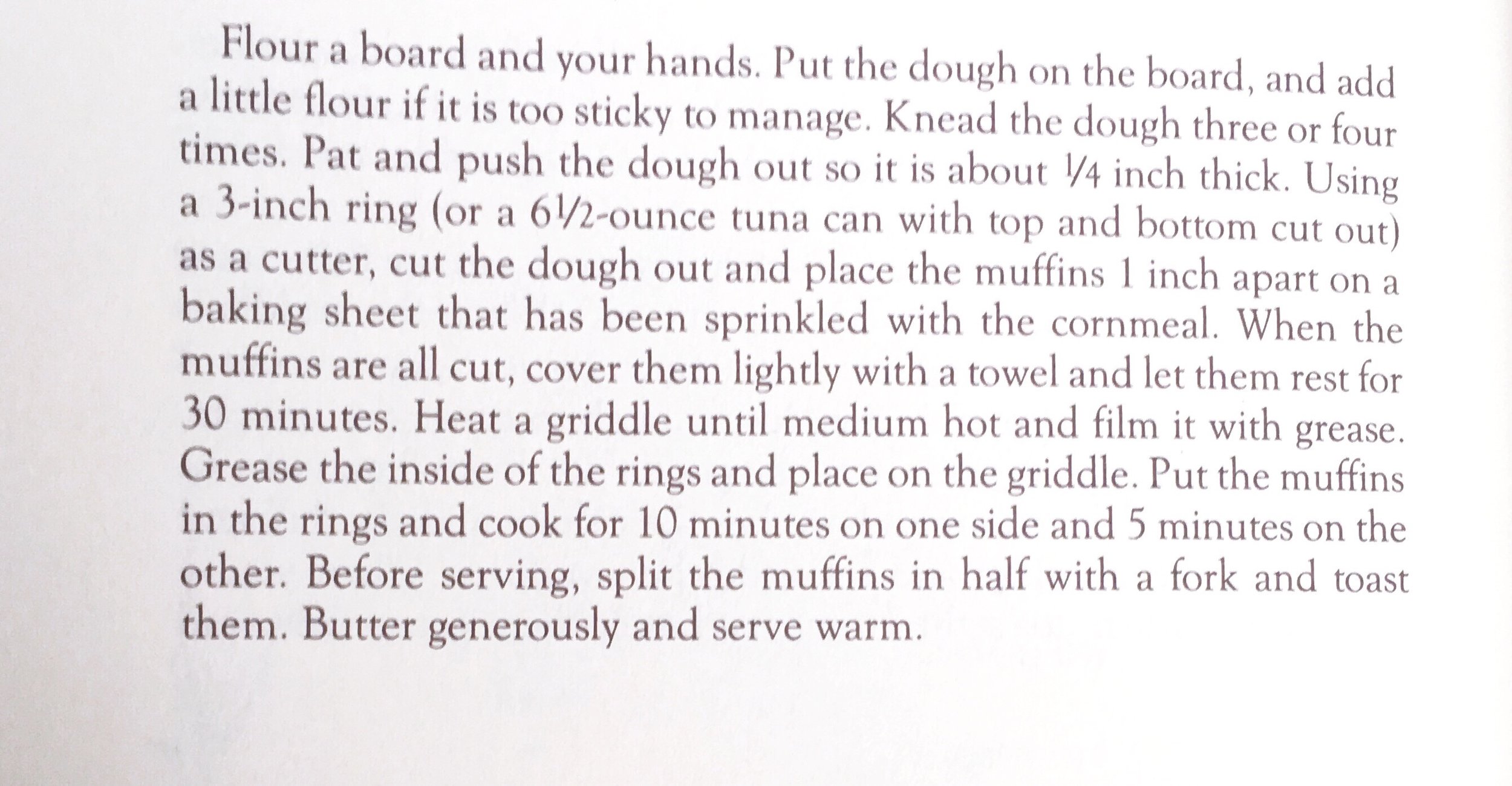 As long as you give time for rising, these are not difficult to whip up for a relaxing weekend breakfast - or afternoon tea!